Solar PV is a technology that converts sunlight into DC renewable energy by absorbing the rays provided by the sun. Photovoltaics (PV) represents the use of semi-conducting materials that exhibit the 'photovoltaic effect'. The photovoltaic effect is the term for the conversion of sunlight into usable electricity. Utilising this phenomenon allows us to produce clean renewable energy while both reducing our annual electricity cost and our Carbon footprint.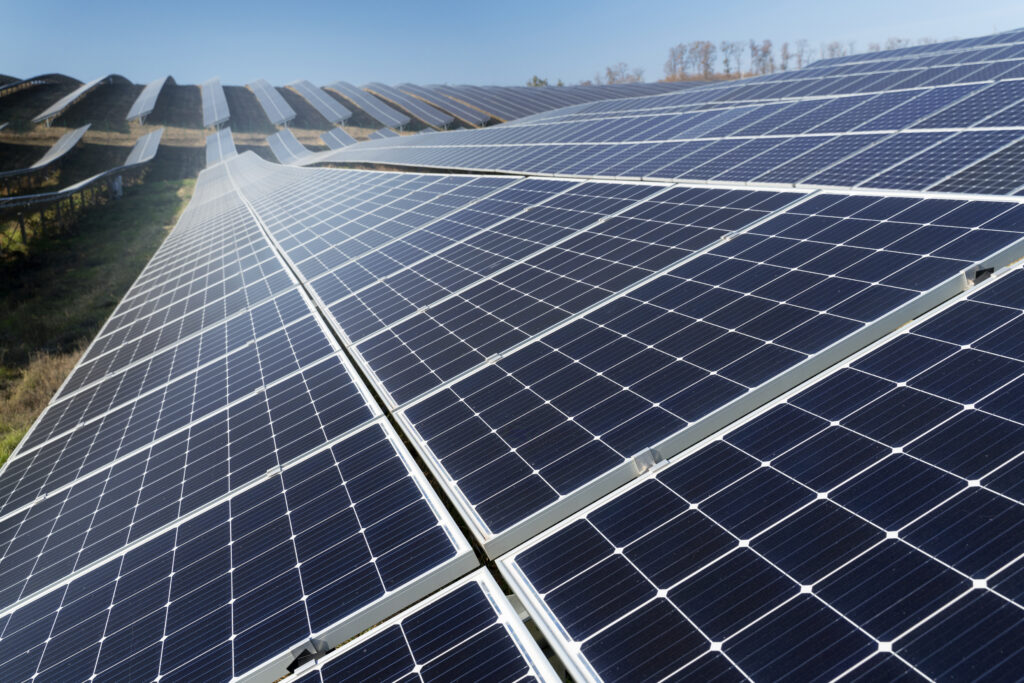 Components used in a PV system
The four main components used in a PV system are PV solar modules/panels, an inverter is required to convert energy to AC, a PV mounting kit/system and battery storage.  Typically, the area that the PV system will be installed on influences the PV system's panel/panels sizing and configuration, which in turn determines the system's generation potential, inverter size and battery size required.
PV panels generate DC (Direct Current) power. Domestically, AC (Alternative Current) power is used, and inverter is required to convert the generated DC energy to AC, allowing the power travel over a distance without losing energy along its path safely. Three types of inverters are used currently, on-grid inverter, off-grid inverter and hybrid inverters depending on one's needs.
Solar panels are referred to as PV modules in the PV industry. PV modules are the electricity generation part of any solar/PV system. The semiconductor material used in the modules generate DC electricity from solar radiation. Solar radiation is typically measured in W/m2.(watts per metre squared) which can fluctuate significantly from morning to night and from season to season, making the generation of electricity through solar challenging particularly in winter months.
Each module/panel undergoes testing referred on the module's datasheet as STC (Standard Temperature Conditions). For ease of standardisation, these conditions are at 25°C and a solar radiation of 1,000 W/m2. In a real-life environment, both parameters will change over the course of the day, particularly solar radiation which can fluctuate between 0-1200 W/m2 here in Ireland, depending on the time of year. The power/electricity that a PV module will generate at any given time is highly dependent on the solar radiation that the PV module is exposed to. The higher the value of solar radiation, the higher the power/electricity that is produced.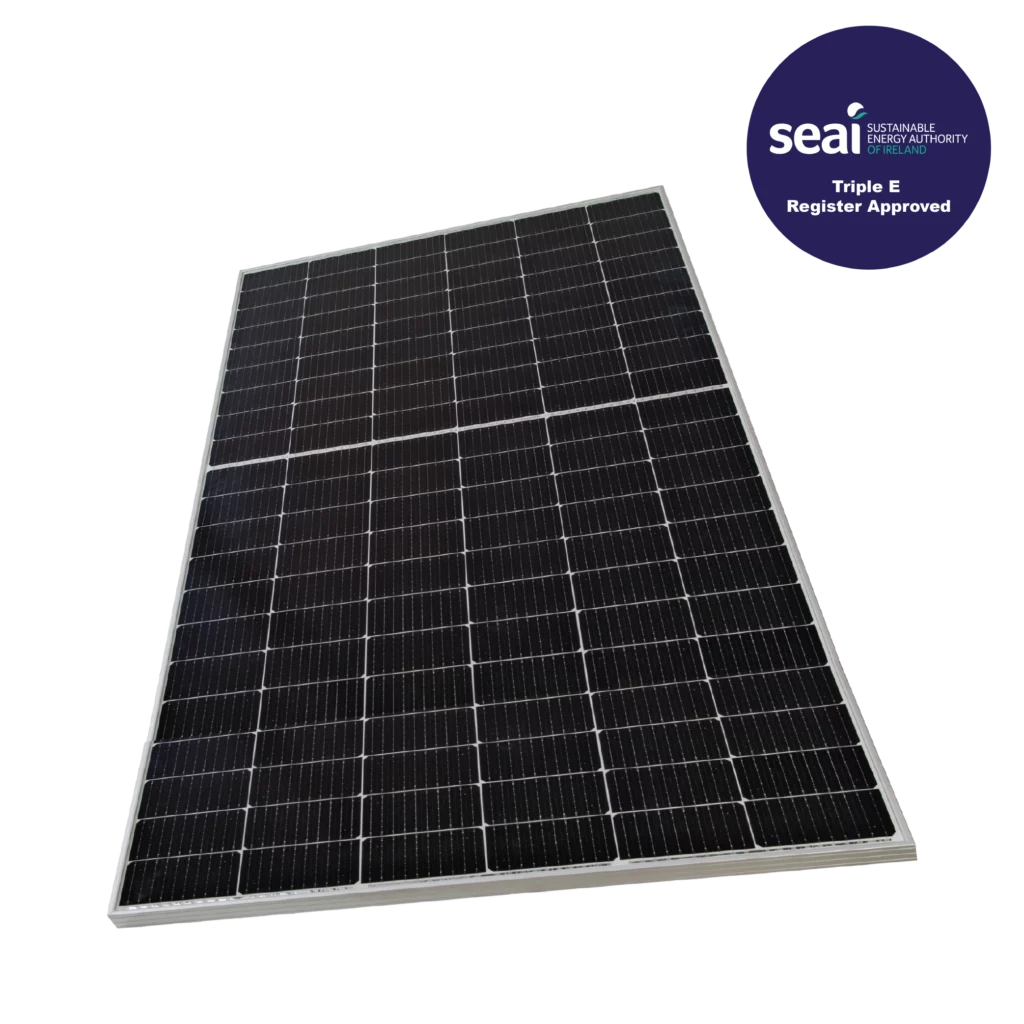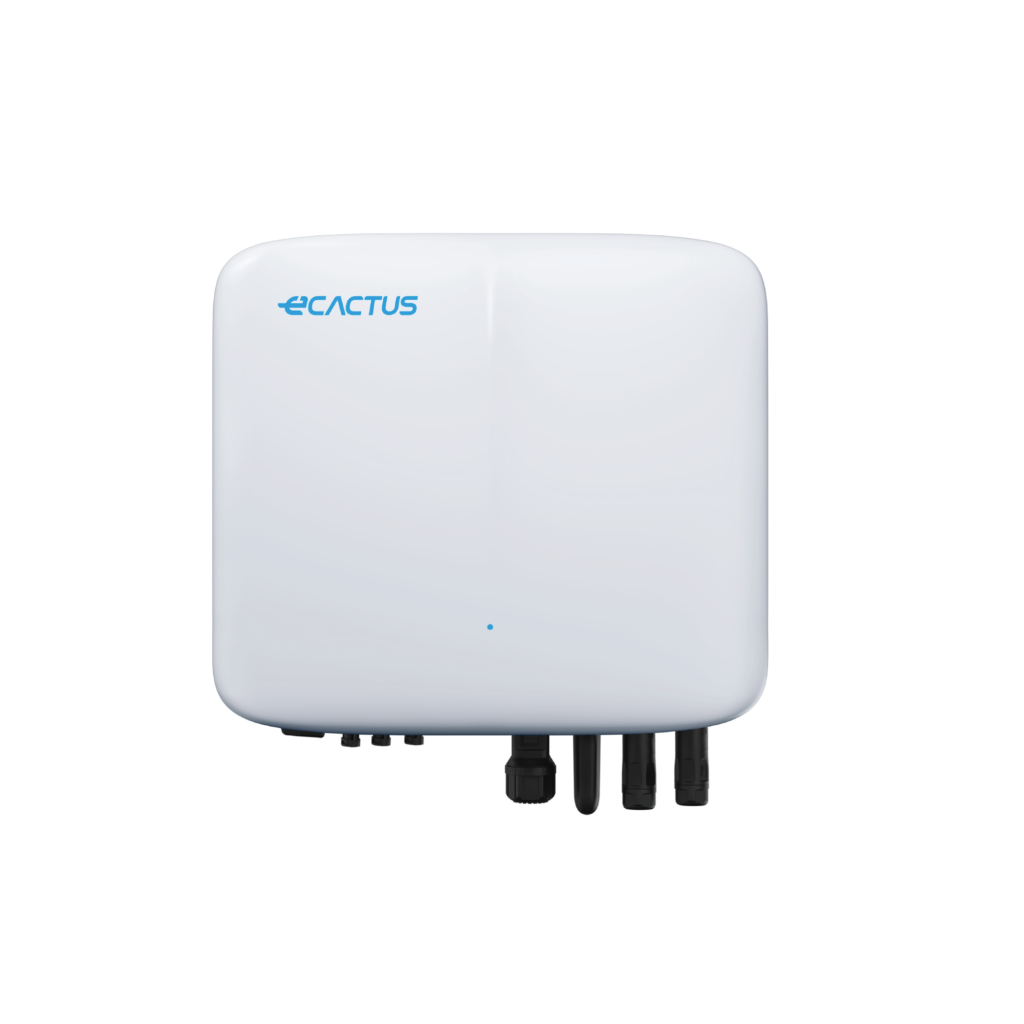 Inverters are a crucial part of the PV eco-system. PV panels generate DC (Direct Circuit) power, which needs to be converted to AC (Alternate Current) for use or for export to the grid. An inverter is required to convert this energy at either single phase (residential buildings/dwellings) or three phase (commercial entities). The two main inverters used are hybrid inverters (allowing battery storage) or on grid inverters.
The mounting system is the stem of the PV System. Mounting systems can be designed for and positioned for on-ground or rooftop applications or in other spaces such as pergolas, car parks, bike shelters, etc. The location of where the mounting system will be installed influences the design as wind, snow and static loading must be factored into the mounting system design to ensure that the installation is safe, secure and ensures structural integrity. The mounting systems are typically made from aluminium alloy and stainless steel and are anodised or galvanised to ensure weathering will not impede the lifespan of the mounting system.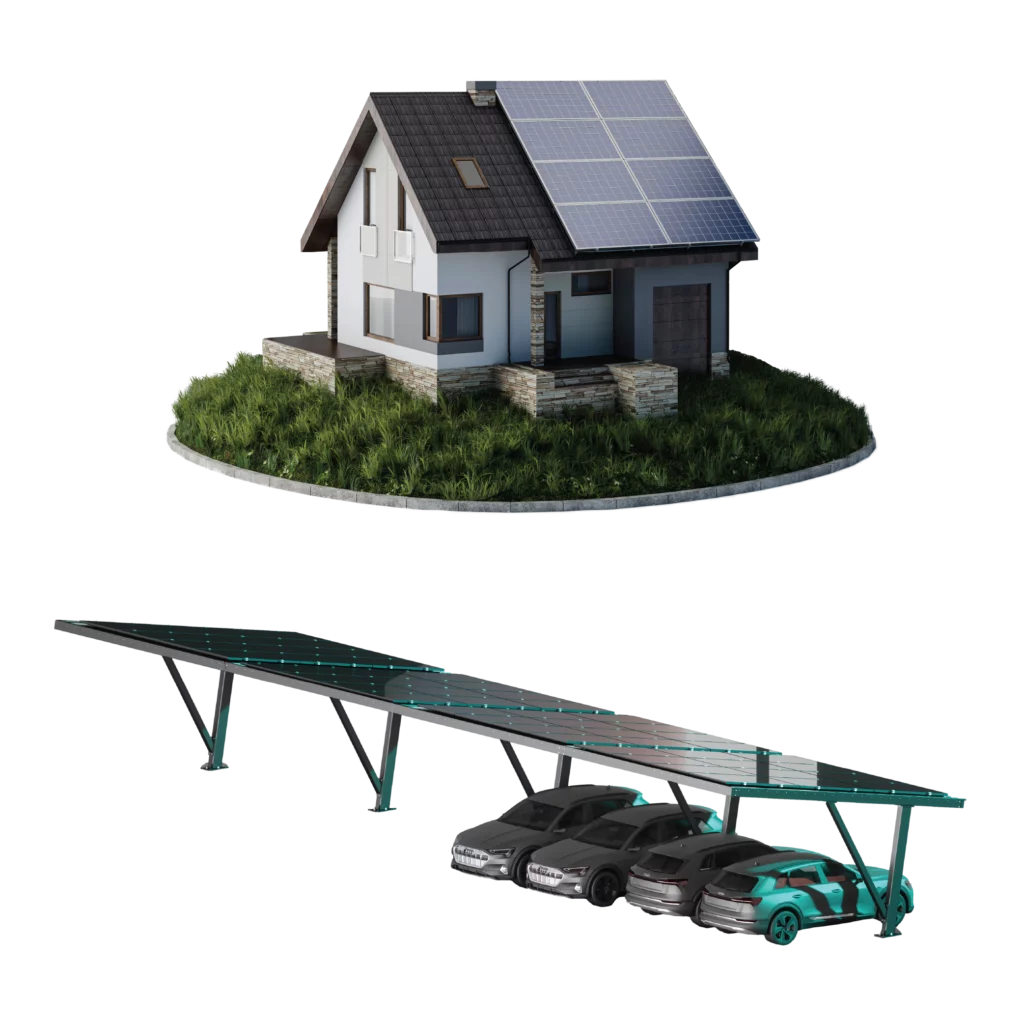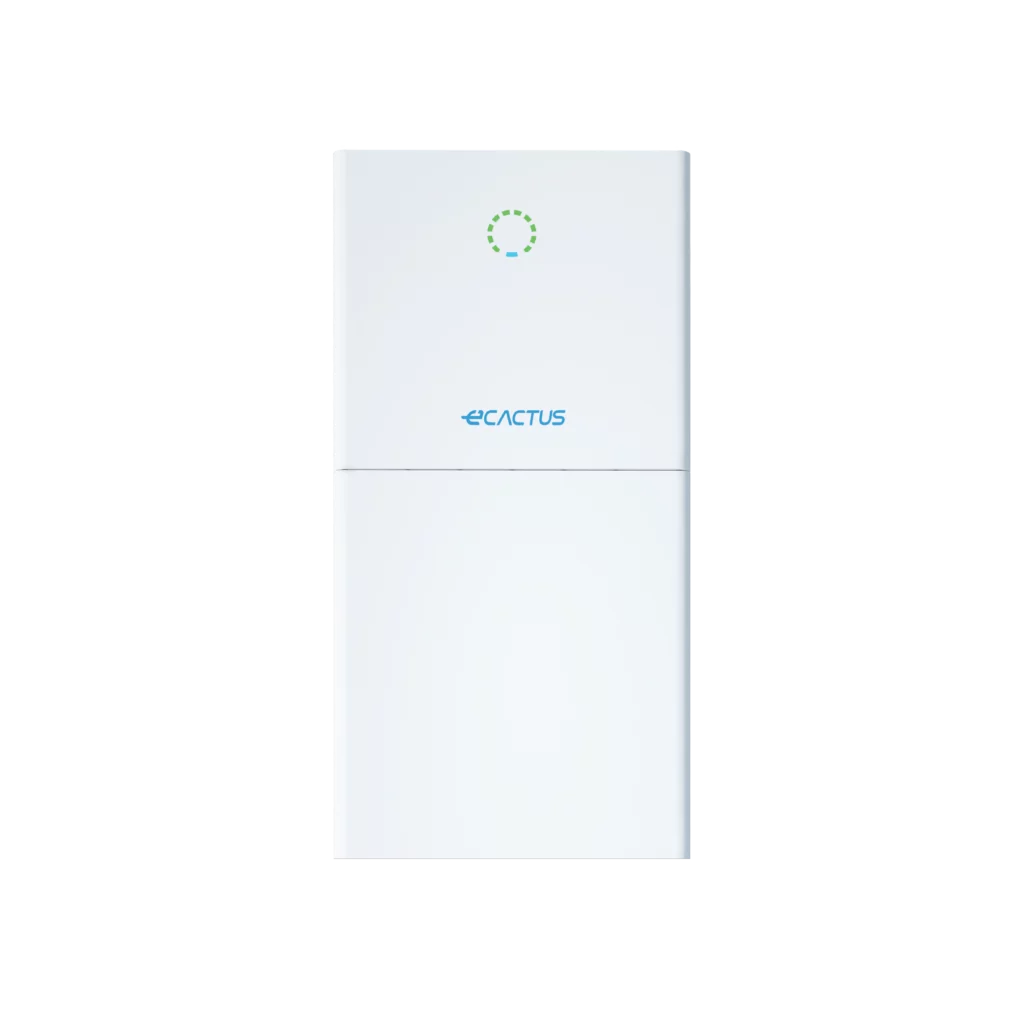 A battery storage system is  an excellent way to store surplus or unused power for use later when solar energy is no longer available. In effect, it extends the benefit of capturing and using the free energy from your PV system. A battery storage system is also excellent for storing electricity that you purchase from the grid at off-peak times at reduced costs for usage during peak cost times. A battery or energy storage system is an essential part of any PV system, as it allows the storage of energy at off-peak rates for use later and at the same time, allows for top up with solar energy throughout the day time. 
Why choose EPS solar power generation?
Clean Renewable Energy Source – Reduces your Carbon Footprint
Under the Climate Action Plan 2023, in Ireland, we have committed to halving our emissions by 2030 and to reach Net Zero by 2050.
This puts a responsibility on all of us, both individually and within the private and public sectors to take action to reduce our carbon footprint and emissions.
For EPS – and our community – sustainability has always been at the core of what we do and in addition to our core services and offering, we also have a responsibility to lead by example and to encourage and enable our employees, customers, supply chain partners to reduce their carbon footprint.
An EPS solar solution is an extremely cost-effective investment with an estimated payback period between 4-6 years depending on the system implemented with a lifespan of 25 years+ compared with market equivalent payback periods of 7-10 years.
SEAI also operates an incentive grant support scheme which provides up to €2,400 for each domestic system installed.
EPS Employee Solar Incentive Scheme
As a business, EPS has been measuring and reducing our carbon footprint since 2010 and we feel a responsibility to encourage, support and incentivise our employees to embrace the power of solar solutions or to consider more energy efficient products at home.
We learned that many people were considering going solar, but having looked into it, were put off by the costs and that's where we knew we could make a difference.
From conducting employee surveys across our business, we know that the majority of our employees want to install a PV system at their home, but the majority will not as it is too cost prohibitive and payback periods are far too long. 
Despite a grant of €2,400, the remaining cost of anywhere between €11,000 – €15,000 is still too expensive for the majority to consider such a system for their home.
Our employee scheme has been designed to make it accessible and affordable and with our scheme, our employees can avail of a system installation where we have brought the scheme costs to within affordable budgets of between €6,000 – €10,000 for a fully installed system.
Over the long term, if our employees, their family, friends and neighbours all access affordable PV technology through our initiatives, this demonstrates  our commitment to sustainability and assisting those we can to strive for a Net Zero world.
Our employees are now in a position to be able to create a number of packages to help our teams to:
There's no doubt going solar still represents a considerable investment, but considering the long term benefits it is worth it.
Thanks to an EPS nationwide network of SEAI registered PV installation partners, you can access affordable PV/solar energy.
As of December 2023, almost 50 employees have signed up for the scheme, representing close to 500kW of installed power just 2 months after we launched the scheme. 
Working with proven and established SEAI registered PV installers ensures our employees have a quality installation, futureproofing their home.
If you would like to join our network of installers please follow the link to our form below.