Green Belt Certificates presented to EPS Team
As part of the ongoing Lean Plus innovation programme in EPS supported by Enterprise Ireland, eight employees were presented with Green Belt Certificates in recognition of their participation in and completion of the Green Belt programme.
 A total of six projects were completed over the past ten months in areas of the business including:
Service and repair centre
Goods inwards
Standardised products
Handover between tendering and contract delivery
Project commissioning and handover to end users
Minister Sean Sherlock acknowledged the hard work and effort of all involved in the innovation programme in EPS and he noted that Lean Plus and Lean Business Systems formed an important part of growth in any company.
The programme is supported by Enterprise Ireland and facilitated by Lean Business Systems Ltd. 
The Green Belt recipients were:
Michael O'Sullivan
Denis O'Connor
John Fitzgerald
Liam O'Donoghue
Tom Fitzgerald
Tadhg Mulchinock
Ronan Moore
Cathal Hurley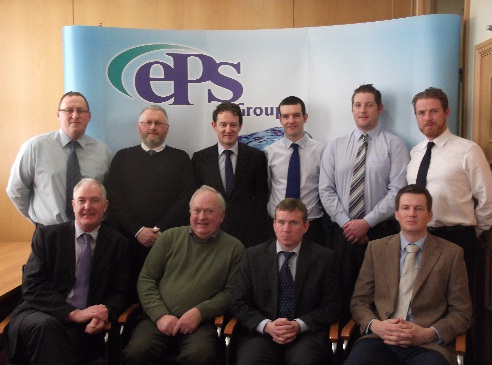 Front row, left to right: John Killeen (Lean Business Systems Ltd), Liam O'Donoghue, Tadhg Mulchinock, Denis O'Connor.
Back row, left to right: Tom Fitzgerald, John Fitzgerald, Minister Sean Sherlock, Ronan Moore, Cathal Hurley, Michael O'Sullivan.